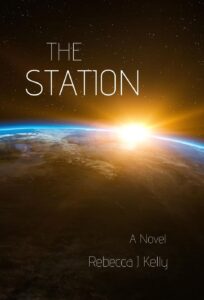 When confronted with death, would you have the courage to leave the only home you've ever known?
The Delta Space Station isn't just a rundown spacecraft skirting the edge of Earth's atmosphere – it's Eta Shepard's home. It's the only place she's ever known. It's her whole world.
And she's desperate to escape it.
Today, on her eighteenth birthday, Eta will begin her day on the Delta the same way she begins every day, working to keep the aging spacecraft from falling out of orbit. But by the day's end, something will happen that will turn Eta's world upside down and forever change her future… and the future of her space station.
Alexandros (Ale) Bakas is a mid-level engineer at NASA, working to re-establish a manned space program after a devastating world war left the Earth and its resident human population in tatters. When a rogue distress signal featuring a strange call sign is picked up by a newly launched set of communication satellites, Ale is put up to the task of finding its origin.
Eta and Ale's worlds are about to collide in a way neither of them saw coming. And even though they're separated by hundreds of kilometers and all of Earth's atmosphere, their bond grows to the point of unbreakable – which is a good thing because they'll need that incredible bond to save Eta's life before the Delta finally falls.
Thank you for your support!
Keep up-to-date with everything that's in my queue – what I'm reading, what I'm writing, my latest obsessions, and exclusive content from my WIP.
Sign up for my newsletter, THE QUEUE! You'll receive a FREE audio excerpt which includes me reading Chapters 1-4 of The Station. That's almost 60 minutes of FREE audiobook content just for signing up!